BORDER WAR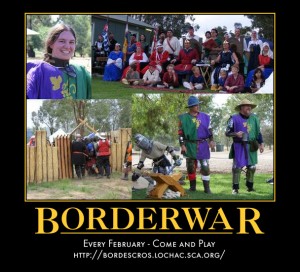 HELD on the last full weekend of February, Border War is the largest event our local Shire presents each year.
The Incipient Shire of Border's Crossing hosted the first Border War in February 1999, just four months after forming. At that war, a battle was held to decide which Barony would be mentors to the fledgling Shire: Politarchopolis, approx 3.5 hours north, or Stormhold, approx 3.5 hours south. Politarchopolis won. But Stormhold tried again next year…
In 2017 we will be holding our nineteenth Border War.  A weekend of fighting, classes and fun from Friday 24 Feb to Sunday 26 Feb 2017 at Kurrajong Scout Camp, Oura Rd, Wagga Wagga.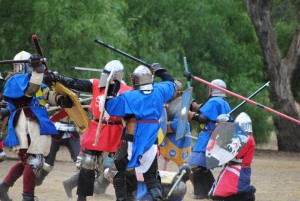 ---
ROWANY FESTIVAL
Held in the Barony of Rowany (Sydney Area) each year, Rowany Festival runs for five days over Easter. Usually somewhere between 600 and 1,000 SCAdians attend this event.
Bordescros generally has a presence at Festival, which is much enjoyed by all who attend. Rowany Festival boasts more fighting, A&S, and campsite revelry than any other event in Lochac.
Rowany Festival Official Website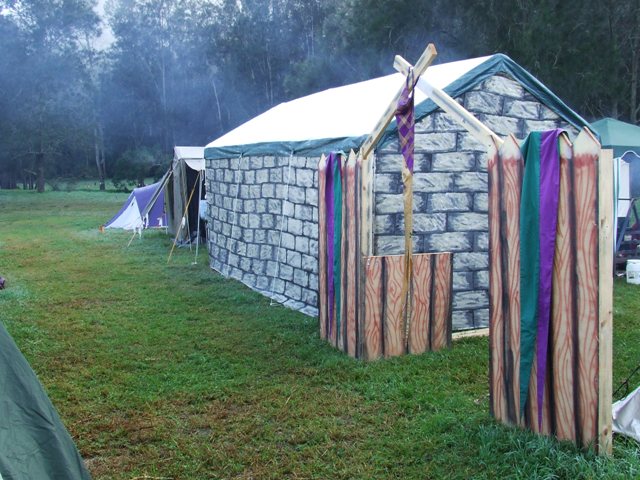 This is the Bordescros Campsite gate and Cairi's Cottage at Rowany Festival AS 42 (March 08)
---
BORDESCROS BIRTHDAY BASH
Our Birthday Bash is held in October each year – in 2016 we will be combining our Birthday Bash with a public demonstration. Details coming soon…