BORDER WAR
HELD on the last full weekend of February each year Border War is the largest event our local Shire presents each year.
The Incipient Shire of Border's Crossing hosted the first Border War in February 1999, just four months after forming. At that war, a battle was held to decide which Barony would be mentors to the fledgling Shire: Politarchopolis, approx 3.5 hours north, or Stormhold, approx 3.5 hours south. Politarchopolis won.
In 2015 it is Border War XVII.
As it is the 600 year anniversary, the theme is 1415: King Henry V of England invades Normandy. This is toward the end of the Hundred Years' War. Battle scenarios will be themed around the Siege of Harfleur, crossing the ford at Abbeville, Agincourt and other Hundred Years War battles. So prepare your siege weapons and arrows and practise your bridge/ford battle skills as well as your field battle skills. Your War Band includes those taking part in A&S and Bardic challenges, which will also follow the theme, so think  Agincourt; Shakespeare's Henry V and Shaw's St Joan when preparing your entries.
A weekend of fighting, classes and fun from Friday, 20 Feb to Sunday, 22 Feb 2015 at Kurrajong Scout Camp, Oura Rd, Wagga Wagga.
For those who get in early there is dormitory accommodation, and ample choice for camp sites.  If your household or Barony would like to have its own camping area, please advise this at the time of booking, together with the approximate number/size of tents.
The food will be plenty, tasty and satisfying for all tastes from Friday night until Sunday lunch.   If you have specific food allergies or preferences, please let us know at the time of booking.   For those who do not wish to participate in the fighting, there will be a range of Arts and Sciences activities available, including A&S for children.
Bookings are now open, and should be emailed to borderwar@bordescros.lochac.sca.au with the subject line 'booking'.
Prices, including camping costs and GST:
Member

Non Member

Bookings paid:
ADULT
CHILD*
FAMILY#2 AD&2 CH
ADULT
CHILD*
FAMILY#2 AD&2 CH
Prior to 6 December 2014
100.00
50.00
300.00
110.00
55.00
330.00
To 6 January 2015
110.00
55.00
330.00
120.00
60.00
360.00
To 6 February 2015
120.00
60.00
360.00
130.00
65.00
390.00
Gate Price
130.00
65.00
390.00
140.00
70.00
420.00
Day RateFeast Only
12.0025.00
6.00
36.00
18.0030.00
9.00
54.00
For Dorm accommodation add $10 per person / per night.  Dorms are available on a first come, first served basis.
Dorms are single bunk beds only. Please specify if you need electricity for medical reasons.
*Children to 5 are free; children in primary or secondary school are half price.
# Family price is for 2 adults and 2 children and the rest of the children are free, however we need to know how many there are for catering purposes, so please provide names, ages and membership number (if applicable) for all children on booking form.
WAR BANDS
Once again the War Band competition will be run.
This is a competition that will encompass all aspects of Border War for War Bands/Households consisting of up to 12 members.   The group entry with the highest overall score will be the winner, and take home the War Chest to which all participants are requested to contribute.    To earn points there will be:
War Scenarios
Fighter Tournament
Archery Tournament
Fencing Tournament (to be confirmed)
Arts & Sciences Competition
Gywnfor Llwyd Memorial Mouth From the South Bardic Competition
Points will be awarded for entering an activity and to those who fought in the winning side in each 'battle', and there will be a points system for the tournaments and competitions:
1 point per entrant in each activity or war scenario with bonus points for first, second & third.
In order to encourage greater pageantry, there will be points for the Best Presented War Bands.
Last year BW XVI, the winning War Band was Bordescros, due to the number of entries in the A&S comps, rather than our fighting prowess. So when thinking about the composition of your War Band, remember to include those with archery, rapier and A&S skills and that fighters can also enter the A&S and Bardic competitions.
Please bring something to add to the War Chest.
ARTS & SCIENCES
Invitations are warmly extended to those in the Kingdom who would like to share their expertise on any area of Arts and Sciences with those attending Border War.   If you are interested, please email (tba) with 'A&S' in the title.
There will be the following competitions all focussed on Western Europe around 1415:
Brewing – alcoholic and non-alcoholic cordials
Cooking
An item of clothing
Armour – soft or hard
Calligraphy and/or Illumination
BARDIC COMPETITION
Participants will be required to present a performance piece in any format appropriate to the Hundred Years War. If you decide to put on a theatrical performance or act, please keep it to 10 minutes (rather than the whole of Henry V or St Joan).
PROGRAM
To book please email BorderWar15@hotmail.com to receive bank account details.
DAY/TIME
EVENT
A&S
MARTIAL
OTHER
FRIDAY 20/02/2015
2:00 pm
Site / Troll Open
7:00 – 9:00 pm
Dinner
8:30 pm
Kitchen Prep
Bardic Circle
War Council
SATURDAY 21/02/2015
7:30 am
Breakfast
8:30 am
Armour Inspection
9:00 am
Classes tba
10:00 am
War Scenarios
11:00 am
12:00 noon
12:30 pm
Lunch
1:00 pm
1:30 pm
Classes tba
Armour Inspection
2:00 pm
War Scenarios
Rapier
3:00 pm
Target Archery
4:00 pm
Agincourt Run
5:00 pm
Boffer Bomb Battle &Tenez Tourney ?
6:00 pm
6:30 pm
Feast
7:00 pm
8:00 pm
8:30 pm
3rd MemorialMouth from the SouthBardic Challenge
9:00 pm
10:00 pm
11:00 pm
Midnight to dawn
Quiet near dorms / camping requested
Sunday 22/02/2015
7:30 am
Breakfast
8:30 am
9:00 am
 Armour Inspection
10:00 am
Classes tba
Heavy Tourney
Rapier & Boffer Tourneys
11:00 am
12:00 noon
Closing 'Court' & Winning War Band announced
12:30 pm
Lunch
1:00 pm
1:30 pm
Pack up site
---
---
ROWANY FESTIVAL
Held in the Barony of Rowany (Sydney Area) each year, Rowany Festival runs for six days over Easter. Click here for a link to the Festival web page.
Currently, Rowany Festival is held at Glenworth Valley, a beautiful, moist, green valley north of Sydney, south of Gosford. Usually somewhere between 600 and 1,000 SCAdians attend this event.
Bordescros generally has a presence at Festival, which is much enjoyed by all who attend. More fighting / A&S / campsite revelry than any other event in Lochac.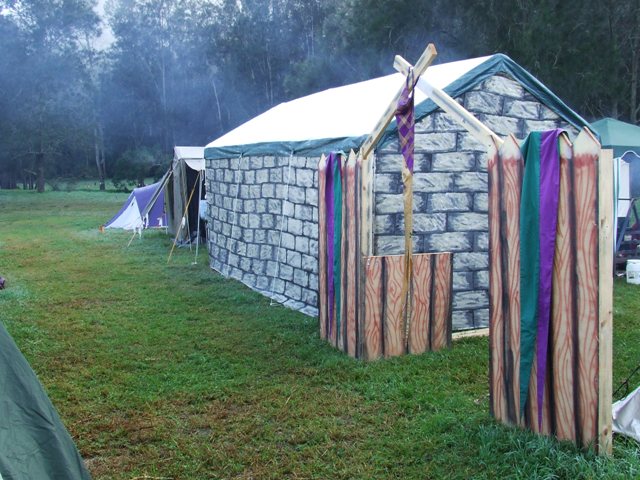 This is the Bordescros Campsite gate and Cairi's Cottage (tent) at Rowany Festival AS 42 (March 08)