SPRING HORSE FAIRE & SIEGE WAR
Held on the second weekend in November (11th to 13th Nov, 2022) the Horse Faire and Siege War is the newest Shire event.
Focusing on niche activities and showcasing the SCA to the western end of the Shire of Bordescros, if you are into horses, horse archery, archery in general, thrown weapons, and siege weapons, this is the event for you!!!
BORDER WAR
HELD on the last full weekend of February, Border War is the largest event our local Shire presents each year.
The Incipient Shire of Border's Crossing hosted the first Border War in February 1999, just four months after forming. At that war, a battle was held to decide which Barony would be mentors to the fledgling Shire: Politarchopolis, approx 3.5 hours north, or Stormhold, approx 3.5 hours south. Politarchopolis won. But Stormhold tried again next year …
---
ROWANY FESTIVAL
Held in the Barony of Rowany (Sydney Area) each year, Rowany Festival runs for five days over Easter. Usually somewhere between 600 and 1,000 SCAdians attend this event.
Bordescros generally has a presence at Festival, which is much enjoyed by all who attend. Rowany Festival boasts more fighting, A&S, and campsite revelry than any other event in Lochac.
Rowany Festival Official Website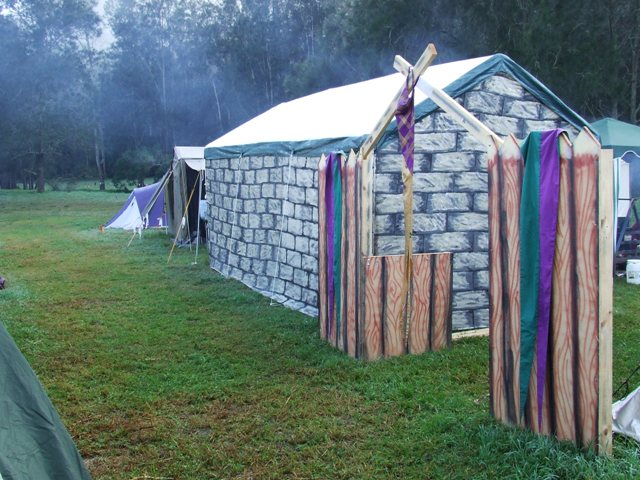 This is the Bordescros Campsite gate and Cairi's Cottage at Rowany Festival AS 42 (March 08)
---
BORDESCROS BIRTHDAY BASH
Our Birthday Bash is held in July each year to celebrate our official recognition as a full Shire (the first one in the -then- new Kingdom of Lochac. Keep and eye on our upcoming events calendar for details.