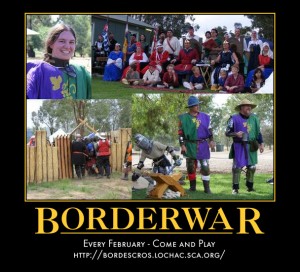 BORDER WAR XXI 
  FEBRUARY 22rd – 24th  (AS LIII – AD 2019)  
Attention:  *We are planning to feast out doors this year. For your comfort please bring a chair or camp blanket.    *As we are in Victoria please ensure you comply with the Lochac Weapons Regulations.  * Mundane swim wear is required for the pool and dam.
This year we have moved to a NEW cooler location.  There will also be an Oasis from Suffering (swimming pool) available for Lords and Ladies to cool off from the hot summer sun.
Held on the last full weekend of February, Border War is the largest event our Shire presents each year.  A weekend of war, fighting (archery, rapier and heavy), A&S competitions and classes, games, kids activities and fun!
In 2019 Border War will be held from Friday 22rd Feb to Sunday 24th Feb 2019
at Snowy River Camp, 768 Tallangatta Creek Rd, TALLANGATTA VALLEY VIC 3701.
For those who get in early, there is dormitory accommodation and ample choice for camp sites.
The food will be plentiful, tasty and satisfying for all tastes from Friday night until Sunday lunch.  Mistress Thomasina Coke is our Feast Steward again this year. If you have specific food allergies or preferences, please let us know at the time of booking.  
For those who do not wish to participate in the fighting, there will be a range of Arts and Sciences activities available, plus games and the market on the Village Green. This includes children's activities, as usual.
THEME
Scottish: Highland verse Lowland from the islands, highlands, glens and lands now known as Scotland..  This will include highland games to be held on the Saturday afternoon.
MARTIAL: In keeping with our Scottish theme fighting  will be Highlands vs Lowlands. Gather your War Bands, whether thou be fighting for thy Barony, Shire or as a mercenary. Declaration of War will be at Saturday morning's Opening Gathering on the Village Green, when War Bands will parade in all their heraldic glory before the populace to declare the side they will support in this fight to the death! Fighters are also asked to bring an item for the War Chest.  War Bands include all fighting styles: archery, heavy, rapier. (See below)
ARTS & SCIENCES: There will be competitions, workshops and the 7th Memorial Bardic Challenge. A&S Competitions count towards War Points. (See below)
CHILDREN'S ACTIVITIES: Games, Boffer tourney (if enough fighters), Boffer Bomb Battle (Water Bombs!)
MARKET: If you would like a stall/table, see booking sheet for details. [Charge is a donation to the War chest.]
BOOKINGS NOW OPEN
Click here for the booking form. 
BELOW are details of prices and more details on the above information summaries.
EFT Details:
Acc Name      Society of Creative Anachronism – Bordescros
Bank              Westpac
BSB               032769
Account No.  632441
If sending a cheque, mail c/- Scott Bulters, PO Box 2407, ALBURY, NSW 2640
PRICES
All prices are for members; non-members please add $5 per person for insurance. Book early! $40 non-refundable deposit will secure your place. Payment Plan available: pay in monthly instalments to suit your budget; full price must be paid prior to the event. Children under 3 are free.  Family and other rates upon request.
Prior to  November 30th, 2018:
MEMBERS Camping: Adult: $110   CHILD 3-16: $75
MEMBERS Dorm: Adult: $140   CHILD 3-16: $105
Day only (No feast):  Adult $40 CHILD 3-16: $20
Feast Only:  Adult $25 CHILD 3-16: $15
Prior to  February 1st, 2019:
MEMBERS Camping: Adult: $120   CHILD 3-16: $85
MEMBERS Dorm: Adult: $150   CHILD 3-16: $115
Day only (No feast):  Adult $50 CHILD 3-16: $25
Feast Only:  Adult $25 CHILD 3-16: $15
After February 1st, 2019 (At the Gate):
MEMBERS Camping: Adult: $130   CHILD 3-16: $95
MEMBERS Dorm: Adult: $160   CHILD 3-16: $125
Day only (No feast):  Adult $55 CHILD 3-16: $30
Feast Only:  Adult $25 CHILD 3-16: $15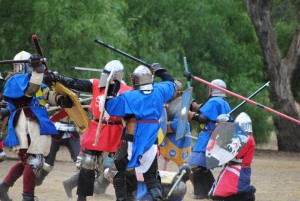 WAR BANDS
This is a competition that encompasses all aspects of Border War for War Bands/Households consisting of up to 8 members.   The group entry with the highest overall score will be the winner and take home the War Chest to which all participants are requested to contribute. To earn WAR POINTS there will be:
War Scenarios
Fighter Tournament
Archery Tournament
Fencing Tournament
Arts & Sciences Competition
The 7th Gywnfor Llwyd Memorial 'Mouth From the South' Bardic Competition
Best Presented War Band (to be judged during the Declaration of War straight after Armour Inspection on Saturday morning)
Points will be awarded for entering an activity and to the War Bands on the winning side of each battle, and there will be a points system for the tournaments and competitions:  1 point per entrant in each activity (1 point per A&S category) or war scenario with bonus points for first (3), second (2) & third (1).
Please bring something to add to the War Chest.
ARTS & SCIENCES
COMPETITIONS: any culture, any time period prior to 1600:
(a) Fishing – any item that can be used for fishing.
(b) Scottish Beverages – any  Scottish Beverage alcoholic or otherwise
(c) Scottish Culture – any item relevant to Scottish life – Could be written poetry, armour, embroidery, clothing etc.)
The A&S Competition will open at 10 am and judging will take place at 3.00 pm
OPEN DISPLAY – of current projects worked on within the last 12 months. They do not need to be completed, but if you would like to show off your hard work, or would like advice and commentary, this display is the place to put those items.
CLASSES – Invitations are warmly extended to those in the Kingdom who would like to share their expertise on any area of Arts and Sciences with those attending Border War.   If you are interested, please email bordescroswar@gmail.com with 'A&S' in the title.

BARDIC COMPETITION
The 7th Gwynfor Llwyd Memorial Mouth from the South Bardic Challenge will be run again this year.
Theme: Open (If you decide to put on a theatrical performance or act, please keep it to under/around 10 minutes.)
EVENT PROGRAM
The program will be pretty much as usual, garb optional on Friday night, details tba closer to the War
FOOD GLORIOUS FOOD
Border War means plenty of good food, and this year is no exception.
If you have specific dietary requirements please give details on your booking form.
Note that no new world foods will be on the menu so items like tomato or pineapple do not have to be listed.
GOT A BORDER WAR QUESTION WE HAVEN'T ANSWERED?
Contact the Event Stewards Lord Robert Campbell and Lord Gunther Boese at bordescroswar@gmail.com