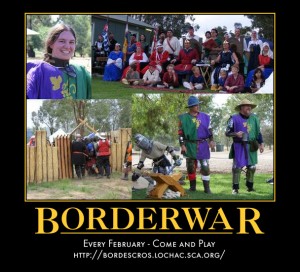 BORDER WAR XX   
The Final brochure is now available BW BROCHURE 2018 Final
  FEBRUARY 23rd – 25th  (AS LII – AD 2018)  
Held on the last full weekend of February, Border War is the largest event our Shire presents each year. This year is our TWENTIETH anniversary. A weekend of war, fighting (archery, rapier and heavy), A&S competitions and classes, games, kids activities and fun!
In 2018 Border War will be held from Friday 23rd Feb to Sunday 25th Feb 2018 at Kurrajong Scout Camp, Oura Rd, Wagga Wagga.
For those who get in early, there is dormitory accommodation and ample choice for camp sites, both Period and non-Period sites. Caravans welcome, at no extra cost (NEW).
The food will be plentiful, tasty and satisfying for all tastes from Friday night until Sunday lunch. Lady Thomasina Coke is our Feast Steward again this year. If you have specific food allergies or preferences, please let us know at the time of booking.  
For those who do not wish to participate in the fighting, there will be a range of Arts and Sciences activities available, plus games and the market on the Village Green. This includes children's activities, as usual.
THEME

Celebrations and Jubilations… we are celebrating twenty years of Border War!  Our theme is THEN and NOW. The first Border War was fought to decide which Barony would be the sponsor for the new incipient Shire of Bordescros… like the Hundred Years' War… the fighting continues…
MARTIAL: In keeping with our history the fighting theme will be NORTH v SOUTH. Gather your War Bands, whether thou be fighting for thy Barony, Shire or as a mercenary. Declaration of War will be at Saturday morning's Opening Gathering on the Village Green, when War Bands will parade in all their heraldic glory before the populace to declare the side they will support in this fight to the death! Fighters are also asked to bring an item for the War Chest.  War Bands include all fighting styles: archery, heavy, rapier. (See below)
ARTS & SCIENCES: There will be competitions, workshops and the 6th Memorial Bardic Challenge. A&S Competitions count towards War Points. (See below)
CHILDREN'S ACTIVITIES: Games, Boffer tourney (if enough fighters), Boffer Bomb Battle (Water Bombs!) NEW this year: The Children's Challenge.
MARKET: So far we have: Pottery, Pre-Loved Garb. If you would like a stall/table, see booking sheet for details. [Charge is a donation to the War chest.]
BOOKINGS NOW OPEN
Click here for the booking form. 
BELOW are details of prices and more details on the above information summaries.
EFT Details:
Acc Name      Society of Creative Anachronism – Bordescros
Bank              Westpac
BSB               032769
Account No.  632441
If sending a cheque, mail c/- Scott Bulters, PO Box 2407, ALBURY, NSW 2640
PRICES
All prices are for members; non-members please add $5 per person for insurance. Book early! $40 non-refundable deposit will secure your place. Payment Plan available: pay in monthly instalments to suit your budget; full price must be paid prior to the event. Camping is included in the price, Caravans no extra cost, Dorms +$12 per person/per night.
Prior to December 31st, 2017:
MEMBERS:
Adult: $110   CHILD 5-16: $60    Family price: pay for 2 adults & 2 children, the rest are free. Child <5 FREE
Day rates:
Adult: Full Day (includes lunch) $55    Feast: $25.00    Day Rate + Feast: $80.00
Child: Full Day (includes lunch) $30.00    Feast: $12.50    Day Rate + Feast: $42.50
January & February, 2018:
MEMBERS:
Adult: $120     CHILD 5-16: $65     Family price: pay for 2 adults & 2 children, the rest are free. Child <5 FREE
Day rates:
Adult: Full Day (includes lunch) $60     Feast: $30.00     Day rate + Feast: $90
Child: Full Day (includes lunch) $32.50    Feast: $15.00    Day Rate + Feast: $47.50
At the Gate:
MEMBERS:
Adult: $130     CHILD 5-16: $70     Family price: pay for 2 adults & 2 children, the rest are free. Child <5 FREE
Day rates:
Adult: Full Day (includes lunch) $65     Feast: $30.00     Day rate + Feast: $90
Child: Full Day (includes lunch) $35    Feast: $20.00    Day Rate + Feast: $55
HOW TO GET THERE
Border War is held at Camp Kurrajong (Scout camp), on the Oura Road, Wagga Wagga (~8km from town), 5.4km east of the Eunony Bridge Road. View map.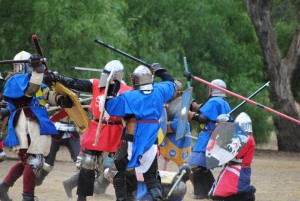 WAR BANDS
This is a competition that encompasses all aspects of Border War for War Bands/Households consisting of up to 8 members.   The group entry with the highest overall score will be the winner and take home the War Chest to which all participants are requested to contribute. To earn WAR POINTS there will be:
War Scenarios
Fighter Tournament
Archery Tournament
Fencing Tournament
Arts & Sciences Competition
The 6th Gywnfor Llwyd Memorial 'Mouth From the South' Bardic Competition
Best Presented War Band (to be judged during the Declaration of War straight after Armour Inspection on Saturday morning)
Points will be awarded for entering an activity and to the War Bands on the winning side of each battle, and there will be a points system for the tournaments and competitions:  1 point per entrant in each activity (1 point per A&S category) or war scenario with bonus points for first (3), second (2) & third (1).
Please bring something to add to the War Chest.
*NEW* This year we are introducing a similar competition for the children. They will choose to be on either North or South and can earn War Points by taking part in the Boffer tourney, the Archery, the A&S, Games on the Green, the Boffer Bomb Battle and even the Bardic Challenge if they are allowed to stay up after 8:30 pm. These will not count toward the adult War Band points as this is a separate challenge, just for under 16s.
ARTS & SCIENCES
COMPETITIONS: any culture, any time period
(a) Homewares – any item that can be used in the home
(b) Textiles – any item made from fibre or cloth
(c) Fighting – an item used for fighting, hard/soft, any fighting method
Download the A&S Competition Form 
The A&S Competition will open at 10 am and judging will take place at 3.00 pm
OPEN DISPLAY – of current projects worked on within the last 12 months. They do not need to be completed, but if you would like to show off your hard work, or would like advice and commentary, this display is the place to put those items.
CLASSES – Invitations are warmly extended to those in the Kingdom who would like to share their expertise on any area of Arts and Sciences with those attending Border War.   If you are interested, please email bordescroswar@gmail.com with 'A&S' in the title.
So far we have two classes scheduled: one on heraldry and one on an alternative method of feast planning.  those interested in offering classes please let us know.  A&S Classes Timetable: tba.
BARDIC COMPETITION
The 6th Gwynfor Llwyd Memorial Mouth from the South Bardic Challenge will be run again this year.
Theme: Open, but extra points may be given if the entry relates to the history of the Shire.
(If you decide to put on a theatrical performance or act, please keep it to under/around 10 minutes.)
EVENT PROGRAM
The program will be pretty much as usual, garb optional on Friday night, details tba closer to the War
FOOD GLORIOUS FOOD
Border War means plenty of good food, and this year is no exception.
If you have specific dietary requirements please give details on your booking form.
Note that no new world foods will be on the menu so items like tomato or pineapple do not have to be listed.
Download the CAMPSITE MAP (PDF)
GOT A BORDER WAR QUESTION WE HAVEN'T ANSWERED?
Contact the Event Steward at bordescroswar@gmail.com