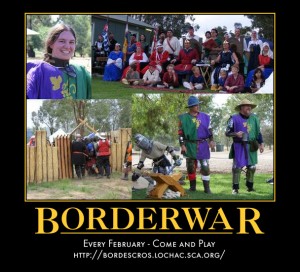 BORDER WAR XIX
FEBRUARY 24, 25, 26 (AS LI – AD 2017)
Held on the last full weekend of February, Border War is the largest event our Shire presents each year. A weekend of war, fighting (archery, rapier & heavy), A&S classes, games, kids activities and fun!
In 2017 Border War will be held  from Friday 24th Feb to Sunday 26th Feb 2017 at Kurrajong Scout Camp, Oura Rd, Wagga Wagga.
For those who get in early, there is dormitory accommodation and ample choice for camp sites.  This year we are dividing the camping area into Period and non-Period areas. If your household or Barony would like to have its own camping area, please advise this at the time of booking, together with the approximate number/size of tents, and which area you prefer.
The food will be plenty, tasty and satisfying for all tastes from Friday night until Sunday lunch. If you have specific food allergies or preferences, please let us know at the time of booking.  
For those who do not wish to participate in the fighting, there will be a range of Arts and Sciences activities available, including A&S for children.
THEME
Florence, Italy. February 26 1324. The renowned historian and silk merchant, Dino Compagni has just died and his life is being celebrated at a grand event, hosted by his friend the Prior of Florence, Conte di Averardo de' Medici: the celebration includes games, arts & crafts, archery, rapier, and mock battles on outlying fields under the Tuscan sun.
Of course, as both de' Medici and Compagni were merchants, there will be a market on the new central village green.
(Cost of a stall is an item donated to the war chest. See the booking sheet for further information).
Fighting theme will be EAST v WEST. Fighters are also asked to bring an item for the War Chest. This year War Bands will be invited to parade the new village green in all their heraldic glory prior to setting off for the war field. Which War Band will look most spectacular? Which War Band will sound most martial? Which War Bands will fight for the East and which for the West? Will the Mongol Hordes and their allies overcome the Holy Roman Empire and its allies?
BOOKINGS NOW OPEN
Click here for the booking form.
EFT Details:
Acc Name      Society of Creative Anachronism – Bordescros
Bank              Westpac
BSB               032769
Account No.  632441
If sending a cheque, mail c/- Scott Bulters, PO Box 2407, ALBURY, NSW 2640
PRICES
All prices include camping costs and GST
(NOTE: Add $10 per person/per night for dorm accommodation. Some powered caravan spaces available,)
Prior to January 31, 2017
MEMBERS:
Adult: $105    School age children: $60    Family price: pay for 2 adults & 2 children, the rest are free.
Day rates:
Adult: Full Day (includes lunch) $55    Feast: $25.00    Day Rate + Feast: $80.00
Child: Full Day (includes lunch) $27.50    Feast: $12.50    Day Rate + Feast: $40.00
NON-MEMBERS: Add $5 for each person to cover insurance (regardless of age or whether an event fee is paid).
From February 1st & At the Gate:
MEMBERS:
Adult: $130     School age children: $80     Family price: pay for 2 adults & 2 children, the rest are free.
Day rates:
Adult: Full Day (includes lunch) $60     Feast: $30.00     Day rate + Feast: $90
Child: Full Day (includes lunch) $30    Feast: $15.00    Day Rate + Feast: $45.00
NON-MEMBERS: Add $5 for each person to cover insurance (regardless of age or whether an event fee is paid).
Download the CAMPSITE MAP (PDF)
HOW TO GET THERE
Border War is held at Camp Kurrajong (Scout camp), on the Oura Road, Wagga Wagga (~8km from town), 5.4km east of the Eunony Bridge Road. View map.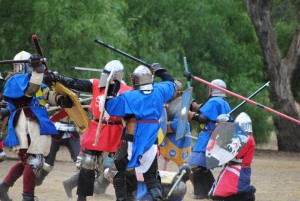 WAR BANDS
This is a competition that will encompass all aspects of Border War for War Bands/Households consisting of 8 to 10 members.   The group entry with the highest overall score will be the winner and take home the War Chest to which all participants are requested to contribute. To earn points there will be:
War Scenarios
Fighter Tournament
Archery Tournament
Fencing Tournament
Arts & Sciences Competition
The 5th Gywnfor Llwyd Memorial 'Mouth From the South' Bardic Competition
Best Presented War Band (to be judged during the War Council straight after Armour Inspection on Saturday morning)
Points will be awarded for entering an activity and to the War Bands on the winning side of each battle, and there will be a points system for the tournaments and competitions:  1 point per entrant in each activity or war scenario with bonus points for first, second & third.
Please bring something to add to the War Chest.
ARTS & SCIENCES
Invitations are warmly extended to those in the Kingdom who would like to share their expertise on any area of Arts and Sciences with those attending Border War.   If you are interested, please email bordescroswar@gmail.com with 'A&S' in the title.
To honour the life work of Dino Compagni the Arts and Sciences competitions will be themed around Northern Italy or the lands to the East: the Byzantine, Mongol and Chinese Empires. These great Empires had become major trading partners since the Polo brothers, Niccolo and Maffeo, had returned to Italy at the end of the previous century (1269-70); the foods, materials, spices and inventions they had brought with them were now a part of Italian life:
A&S Competitions
(a) silk thread  or an item made of silk
(b) calligraphy & illumination
(c) a brewed beverage
Download the A&S Competition Form
The A&S Competition will open at 10 am and judging will take place at 3.00 pm
A&S Classes Timetable
Saturday:
9.30 SCA Heraldry  – Gunther Boese
10.30 Theory of Henin Construction – Sophia Van Dorne
11.00 Kite – Misstress Cairistiona inghean Raghnaill
1.30 Comedia Dell Arte – Mistress Margie of Glenmore
2.30 SCA Recruitment and Growth – Yochen Schwalb
3.30 Tea – THL Lowry Verch Gwenwenwen ap Llewellyn
BARDIC COMPETITION
The 5th Gwynfor Llwyd Memorial Mouth from the South Bardic Challenge has an open theme this year; however, if you manage to include any of the cultures mentioned in the event theme in your performance, there may be extra points.
Considering the wide area of the theme – from Tuscany across the Byzantine/Mongol/Chinese empires, the field is wide open. Mongolian throat singing?  Playing the single-stringed horse head lute? Byzantine music or dance? Chinese theatre or Commedia dell'Arte?… Where ever your fancy and talent take you.
If you decide to put on a theatrical performance or act, please keep it to under/around 10 minutes.
PROGRAM
Download the program (Martial activities page 1; A&S and other activities page 2)
FOOD GLORIOUS FOOD
Border War means plenty of good food, and this year is no exception. Download the menu.
If you have specific dietary requirements please give details on your booking form.
GOT A BORDER WAR QUESTION WE HAVEN'T ANSWERED?
Contact the Event Steward at bordescroswar@gmail.com